FREQUENTLY ASKED QUESTIONS
COVID -19 RESTRICTIONS
Due to Covid-19, all events are limited to a very strict 100 participants. This includes everyone involved – guests, hosts, children, wedding party, plus all staff. The clubhouse is cleaned and sanitized between events. It is the responsibility of the renters to maintain social distancing and practice proper sanitizing procedures. We provide anti-bacterial soap in the bathrooms and a limited amount of hand sanitizer. Failure to abide by these guidelines may result in your event being shut down with no refund issued.
Do I have to be a member or know a member to rent the facility?
Membership in the ECOMC is not required to rent the Gold Bug Island banquet hall.
I am interested in the venue for my event. What do I do?
The first step is to spend some time reviewing the information provided on the website. There is lots of useful information about our fees, our size limitations and a calendar with potential available dates.  A visit to the venue is fruitless if the date you want is already taken or your party is too big for our facility. The calendar is updated frequently and is generally accurate. Your selected date must be within 18 months. Request for dates are handled in the order received. After you have reviewed the information, click the rental link to establish contact by email.
How do I arrange to see the venue?
All visits to the venue are arranged by appointment only. Gold Bug Island is private property and unless you have an appointment or are invited to an event, you must be accompanied by a member. We arrange the appointments on days we do not have rentals so that we do not disrupt the day's renter's preparations or festivities. Just as you would not like someone crashing your event, please do not crash someone else's event. Because the venue is rented most weekends, site visits are usually arranged on weekdays, daytime or early evening. There is not someone on site unless we have an appointment.
I want to secure a rental date. What do I do?
Send us an email with the desired rental date in the subject line. We will want to know the approximate guest count and the nature of the event. Include the name that you want on the contract and your personal phone number. Please use a personal email address. If we need to contact you, it would likely be at a time when you are not at work. We will send you a contract with specific instructions as to where to mail the reservation deposit and the signed contract.  Do NOT send any mail to the physical address! Mail is not delivered there and will be lost. Please follow the instructions carefully because mailing the contract and deposit to an address other than the one provided may result in losing your desired date.
What part of the grounds are included in the rental?
The rental includes the clubhouse and surrounding lawn area, and most of the parking lot. The area beyond the wooden and metal fencing is for the exclusive use of the members. The bird observation deck, the causeway and dock are NOT included in the rental. These areas must remain open and accessible to the members at all times.
Renters and their guests are not allowed on the dock or in the landing area for boating or any other purpose.
Renters and their guests are not allowed to have pets on the property.
What is the maximum number of guests allowed? 
Due to Covid-19, all events are limited to a very strict 100 participants. This includes everyone involved – guests, hosts, children, wedding party, plus all staff. The clubhouse is cleaned and sanitized between events. It is the responsibility of the renters to maintain social distancing and practice proper sanitizing procedures. We provide anti-bacterial soap in the bathrooms and a limited amount of hand sanitizer. Failure to abide by these guidelines may result in your event being shut down with no refund issued.
We limit the number of participants at events to a firm 150 (100 during the COVID – 19 restrictions) and this number includes the bridal party, children, the catering staff and any other vendors. All events must be invitation only – with today's social media, it is easy for attendance numbers to swell out of control.  With 150 participants you will likely need to use both the inside and outside space. The inside of the clubhouse is not big enough to seat 150 guests and still have room for a dance floor. Alternatives are to provide fewer seats than guests or to put some of dining tables on the outside patio. Our tables and chairs are not allowed on the lawn. The waterway view is beautiful and your guests will be drawn to the outside.
There are approximately 65 parking spaces allotted to event parking as long as the parking is organized. You are responsible for organizing the parking. The area on the north end of the island is for members only and is marked off with wooden and metal fencing and signs. No event parking is allowed in the members-only area. Please encourage ride-sharing, Uber and Lyft rides to reduce the number of cars in the lot.
What amenities does the facility have?
Gold Bug Island offers a unique setting with views of the Intracoastal Waterway. Inside the clubhouse is a large banquet hall with heat and air conditioning, a built-in bar, men's and ladies' separate restrooms, and a kitchen/prep area with its own entrance. The kitchen is equipped with a refrigerator, an oven for warming, a microwave, a sink and counter space.
The outside covered patio has a concrete floor and a tin roof and offers a beautiful water view. There are drop-down curtains that can be used if the weather is ugly. There are permanent twinkle lights installed and a commercial ice machine for your use. There is also a hose and water source beside the patio.
The parking lot is gravel and grass and there is a ramp leading to the front door and a ramp out to the back patio.
The company that manages the rentals also offers many staging options to help you plan and stage your event. We will be happy to share our catalog with you.
Catering information
We do not require specific caterers. The kitchen is a prep area with warming capabilities but all actual cooking must be done off-site or outside using the caterer's own equipment.
Food trucks are welcome but should have their own power source. While the outside patio area has many power outlets for music sources, food trucks use a lot of power. We have had instances where several food trucks have plugged in only to trip the breakers.
What are the dimensions of the clubhouse?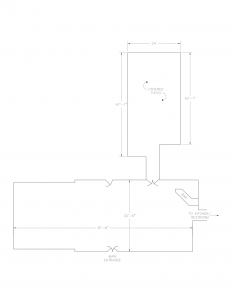 What tables and chairs come with the venue?
The following tables and chairs come with the venue and can be used inside the building and on the paved patio, but not on the lawn:
18 round tables at 60" in diameter
10 rectangle 8 foot x 30" banquet tables
150 white folding chairs
There are two picnic tables, four picnic benches and two large spools that can be placed anywhere outside.
We do not have any chairs that can be used on the lawn for ceremony seating. These would need to be rented from an outside rental company with delivery and pick-up between 11am and midnight on the day of your event. Our staging company offers 10 wooden benches as an alternative. We also have some additional sizes of tables available.
What size tablecloths fit these tables? Do you provide linens?
We do not provide any linens. Some caterers provide linens for buffet tables but you need to arrange for your own linens.
The 60" round use a 120" tablecloth for floor length
The 8ft banquet tables use a 90" x 156"
Additional tables require these sizes:
6 ft banquet tables use a 90" x 132"
36" and 48" round tables use a 108" tablecloth
Cocktail tables use 132" round tablecloths plus a sash to tie them on
What about the other items I see in pictures on the website?
Our staging company owns most of the items pictured on the website with the exception of chairs that are on the lawn and linens on the tables. Those are rented from other local rental companies. We have a catalog of specialty items that we offer that have been designed specifically to enhance the feel of the Gold Bug experience. Once you have reserved a date for your event, we will share the catalog with you.
What time can I get into the facility on the day of my event?
Your rental runs from 11am to midnight on the day of your event. Chances are good that we will have a rental either the day before or the day after your event and we have to have time to clean and prep the facility, so early check-ins are not usually possible.
What are my responsibilities on the day of my event?
At the 11am check-in we will conduct a brief orientation with the person who will be closing down the facility at the end of the night. It is important that we orient the person who will be the last to leave, because closing down the facility properly can determine whether your security deposit is refunded.
We do the heavy cleaning – sweeping, mopping and sanitizing but the banquet hall and grounds must be left in the condition it was in when you arrived. You are responsible for setting up and breaking down the tables and chairs used during the event unless you have contracted with us to perform this service for you. All personal décor items that you have brought in must be removed and any rental items from outside sources must be picked up before you leave at the end of the night. All trash and debris must be placed in the dumpster in the parking lot. There are six large trash cans for your use during the event and we provide the liners as well as paper products for the bathrooms. If you have rented items from us, you will leave those in place.
You will need to have someone on hand to meet with your vendors as they arrive prior to the start of your event. This might include deliveries of the cake and flowers, or the arrival of the caterer or entertainment.
We require contact information for all of your vendors. If you are working with a planner, we need the name and contact information. The planner will need to share the timeline with vendors and contact information. If you are not working with a planner, we still need the timeline and vendor contacts.
The FAQ page is a must-read for everyone involved in the planning of your event!
Are there restrictions on the types of decorations I can use?
The general rule of thumb is that you can use any decorations you want as long as we cannot tell they were ever there. We do not want nails, screws or staple holes in the walls or bar,  or tape, string, cord or any other items used to hang things left after you're gone. Command strips are not allowed because when removed improperly they can rip the paint off the walls, causing unsightly places that have to be patched. There are some hooks and nails that are used for our custom decor pieces and we ask that you do not remove any of those. You have the venue from 11am to midnight and everything has to come and go in that time-frame.
Real candles have not been outlawed yet, but they are discouraged. Candle wax damages linens, and leaves waxy stains on the tables, chairs and floor. We have had the situation where centerpieces have caught fire because a candle got too close. We ask that you use caution and common sense.
Fireworks and sparklers are not allowed on the premises due to safety reasons. Renters may not bring their own firepit although a firepit is available through our staging company.
Also not allowed are artificial flower petals, feathers and confetti. All of these items are hazardous to the marine environment around Gold Bug. Real flower petals, while bio-degradable are not pretty for the next day's event and must be cleaned up before you leave the premises.
Smoking is allowed outside. Buckets of sand are provided to dispose of cigarette/cigar butts. Please don't litter our grounds with cigarette butts.
Keep in mind that while today is your "big day" and we want it to be special, tomorrow is someone else's "big day" and it needs to be special for them too. Please treat our facility with respect.
Failure to follow these guidelines could impact the refunding of the security deposit.
What technology is available at Gold Bug?
There is no Wi-Fi, cable or satellite available in the clubhouse. There is a large TV available for slide-show presentations. The safest way to be sure your slide-show will play is to save it to a laptop or other device and use an HDMI cable to connect to the TV.  Since there is no cable or satellite, the TV only picks up local broadcast stations.