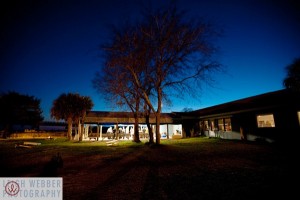 The East Cooper Outboard Motor Club at Gold Bug Island is available for rental for your event. You do NOT have to be a member of the club in order to rent it.
All visits to the venue are by appointment only.  We schedule these visits on days we do not have rentals to avoid disrupting preparations and festivities. Click the link below to set up an appointment.
Rental Fees
The daily rate for a Friday or Saturday is $1500 per day and a Sunday through Thursday date is $1000.  We also require a $400 refundable security deposit. For clubhouse rentals on major holidays, we add $100 in order to pay someone to prepare the venue.
To secure your rental date, we need a $300 reservation deposit check made out to ECOMC along with a signed contract. This deposit is applied toward the total rental cost. You have 30 days after reception of the deposit and contract to cancel and receive a full refund. The balance of the fees is due 30 days prior to the rental date.
How do I reserve the clubhouse? 
Click the calendar tab to check potential availability of your desired date.
To establish contact, email your selected date and contact information, including the name to appear on the contract to
We will confirm by return email if the desired date is still available.  You will receive a completed contract and detailed instructions on how to secure your date. Send signed contracts and deposits only to the address provided in the return email. Do NOT send any correspondence to the physical address.
What we offer:
The rental includes the clubhouse, surrounding grounds and parking. The dock and boat landing area are for the exclusive use of ECOMC members and are off-limits to clubhouse renters and their guests.
You will have access to the facility at 11:00am and you must shut down your function by midnight. The number of guests on the Island is limited to 150. The interior space has heating and air conditioning with separate men's and women's restrooms and a food prep room with a sink, refrigerator, warming oven, microwave and counter space. All actual cooking must be done either off-site or outside. There is a covered patio area known as the oyster shed with a waterfront view of the Intracoastal Waterway. The oyster shed is equipped with curtains to let down for inclement weather. Tables and chairs are included in the rental of the facility. We have 18 round tables at 60 inches in diameter (each table seats 8) 10 rectangular tables at 8' x 30" (each table seats 10) and 150 white chairs. The tables and chairs provided with the venue can be used inside the building and under the paved oyster shed, but not on the lawn. There is an ice machine on premises included for your use.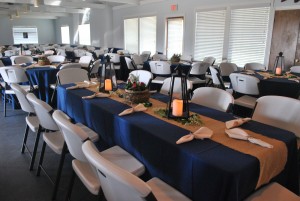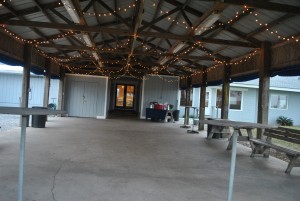 You are responsible for setup and breakdown of tables & chairs, removal of decorations and depositing trash in dumpster. We do provide these services as an additional option. Complete event staging and coordination service is also available for your convenience.
You may serve alcohol if you give it away. If you sell it we require a certificate of liability and licensing according to SC ABC laws. Under-age drinking is not allowed and you will be asked to leave with no refunds.
DJs and bands are welcome. There is plenty of power to serve their needs.
Turkey Shoot
During the month of November ECOMC holds its annual Turkey Shoot at Gold Bug Island. Calendar year 2017 is our 54th year for the shoot.  It runs Wednesdays through Saturdays during the weeks leading up to Thanksgiving and Monday, Tuesday and Wednesday the week of Thanksgiving. This is the largest fundraiser we do and all of the money raised is donated to local charities. For this past year, we  experienced an increase of almost 20% in participation.
For this reason, we have decided not to rent the clubhouse out during future Turkey Shoot dates. As an exception we will consider a Turkey Shoot sponsor or corporate rental that includes the Turkey Shoot as part of their planned activities.